By Holly Coccimiglio
To Brendan Murphy, art can connect individuals through beauty and positivity, but also holds the power to unite in the hardships that we all share in the journey of life. For millions, September 11th, 2001 was an eye-opening tragedy that signified the loss of loved ones and friends, the importance of living in the moment and, overall, the preciousness of life itself. For Brendan, the earth-shifting event also served as a wake-up call to spend your life doing what you love—a reminder that life is simply too unpredictable to not enjoy your work.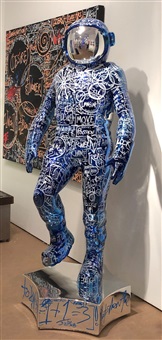 An American painter, sculptor, and creator, Brendan has likely had more cross-industrial experience than the average artist today. After spending his early years as a professional basketball player in Europe, he shifted gears when he moved to New York to pursue a career on Wall Street.

After overshadowing his true artistic passion for much of his early adulthood, 9/11 was the last straw in his process of accepting that his heart truly lied in creativity. Even while playing the sport of basketball and working in finance, Brendan incorporated his creative mind into everything that he did, committed to crafting unique experiences that all told a specific story.
As a master creator working at a passionate pace, Brendan's intersectional experiences in the worlds of sport, finance and art are a significant component in what sets him apart from the artists of today. By blending these disciplines and the artistry involved in all of them, his craftsmanship has brought athletic focus to art, financial understanding to emotion and, in turn, done what no other creator of today has done.
Charged with colour, emotion and the excitement of limitless boundaries, Brendan's work invites art-collectors on a journey into his brain and their own minds. His focus is simple—to create art that transports people into the moment. This philosophy, and Brendan's creations, centre around the fact that this 'moment' can differ for each and every individual. As a master creative brain and, simultaneously, an everyday father and husband, his innate, personal simplicity is what makes him one of the most innovative artists of our time, but also what makes his works some of the most complex of the decade.
The capacity to which Brendan is able to produce artistic works is a distinguishing factor in his illustrious career. His commitment to craftsmanship, fine materials and precise technique are world-renowned, with his works found across the globe through his gallery network that includes Miami, Palm Beach, Santa Monica, Monaco, Montreal, and Toronto.
Currently, Brendan is curating a collection at the Hodges Bay Resort in Antigua, designing new exhibitions in Germany and London, and working on a large-scale collaboration in precious stone slated for release in early 2021. The scale to which his pieces are crafted is something that sets him apart from the pack, never compromising the quality or integrity of his unique and inventive works.
Brendan has created a robust industry reputation which breaks many of the "traditions" of artists past. Rather than creating art with the focus of eliciting a particular feeling in others, he crafts pieces from the heart that showcase his own personal vulnerabilities, struggles and triumphs.
If the outcome of his pieces makes someone feel, he has done his job. His aesthetic is vivid, thought-provoking and layered—a true metaphor for life itself that resonates with art-lovers worldwide. With a strong drive for success, creation and new markets, Brendan's incredible portfolio and innovative artistic mindset make him an artist to watch and collect.