The journey to living your dreams never comes easy nor is it immediate, but when you find your passion the reward is ever so sweet. Chef Rodrick Travis Beazer, a proud Barbudan, is our inspiration for today, as he describes his culinary journey.
Cooking started under the wings of his dear Grandma, Marilyn Samuel. Rodrick describes her as a woman with a superb palate for flavors. He recalls many fond memories picking her brain to get all her secrets of mastering the perfect flavors. There is one thing that Rodrick always remembers from Grandma Marilyn and that was her best advice "You must cook with love, Rodrick!".
In his early years, Rodrick wanted to become an engineer but opportunities on Barbuda were limited, so he settled on becoming a dishwasher at a small hotel on the island. It was then that his love for cooking developed and Grandma's advice began to blossom.  He began to cook what he loved and loved what he cooked.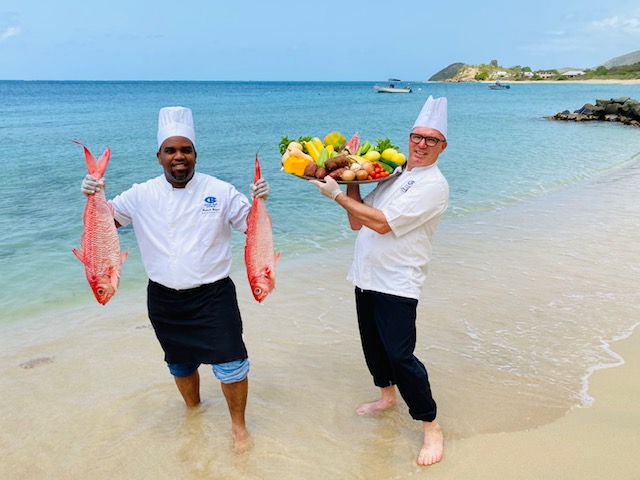 Hard work and a desire to succeed saw Rodrick rise to the position of Executive Sous Chef. However, even though he was pleased with his success at the time, he did not want to fall short of achieving all of his major culinary goals. With the help of his parents, The Board of Education, the Coco Point Trust Fund and the Barbuda Local Government, Rodrick began classes at the International Culinary School at the Art Institute of Atlanta, on January 7th, 2008.
Chef Rodrick has held many positions in the culinary field including his most recent as a Chef Consultant to Salt Plage Restaurant Dickenson Bay Antigua and Bitter End Yacht Club, North Sound, Virgin Gorda, and since May 2020. Chef Rodrick is also currently the Executive Sous Chef at Curtain Bluff Hotel, St Mary's, Antigua.
Chef Rodrick credits the Executive Chefs he has worked alongside and co-workers for his success, simply because they gave him a chance to the learn the basics of the culinary arts. His journey would not have been possible without their support and that of his parents and all the donor agencies that gave him the opportunity to expand his borders.
Chef Rodrick never forgot his grandma's advice, since he certainly cooks what he loves! His favorite dish to prepare is a delectable pan-seared red snapper served with Antiguan pepper pot, banana ketchup, plantain crisp and locally grown sun-dried tomatoes.  I'm sure you can almost taste it.  We certainly wish we could!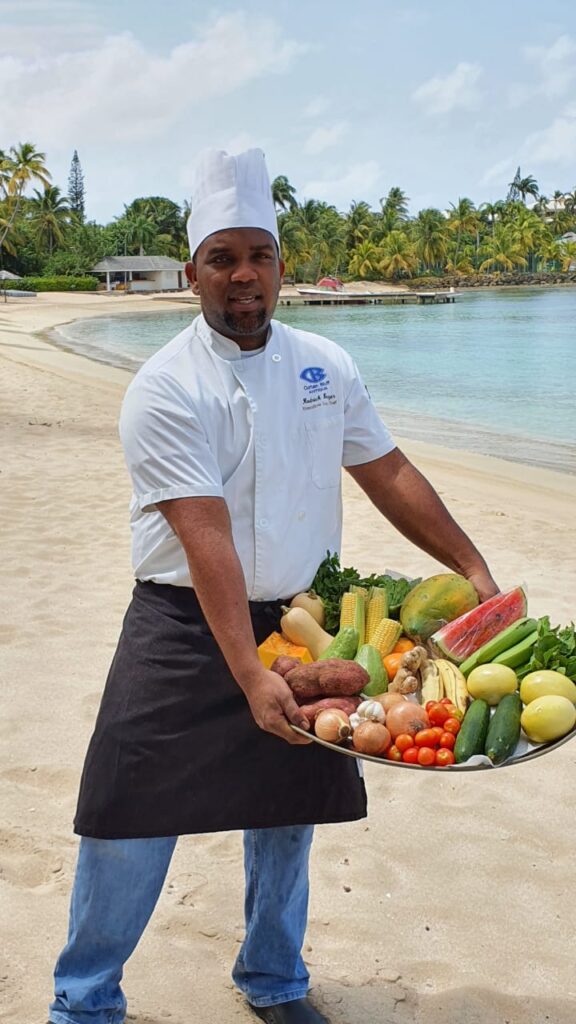 And what is his favorite dish when enjoying downtime with family and friends? Stewed Conch, Dumplings and Chop-up.Chef Rodrick's dream is to one day be able to establish a scholarship programme that will help to assist others to also follow their culinary dreams.
When asked about what advice he would give to aspiring chefs, he remarked "Becoming a chef offers real opportunities to be innovative and demands a high level of discipline. Showing discipline tells others that you represent the institution that you work for at the highest level at all times."You are an inspiration Chef Rodrick Beazer! Continue to cook with love and chase your dreams.