Showcase Antigua Barbuda begins today with the Destination Roundtable, leading off the three day event scheduled from June 8 – June 10.
The Destination Roundtable, a new initiative introduced to Showcase Antigua and Barbuda, brought tourism stakeholders together for an interactive discussion on the future of the tourism sector on Antigua and Barbuda.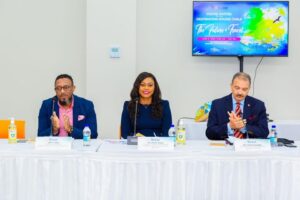 Minister of Tourism and Investment, The Honourable Charles Fernandez presented on Vision 2032, a people-centred vision crafted through investigation of the tourism product and in consultation with tourism stakeholders including industry leaders, tourism operators and the general public.
"When we listened to our stakeholders, and what was important to them, it was clear that the vision for the tourism industry of Antigua and Barbuda would need to be characterized by sustainability, authentic experiences, benefits to Antiguans and Barbudans, a strong legislative and policy framework, and a highly qualified labour force.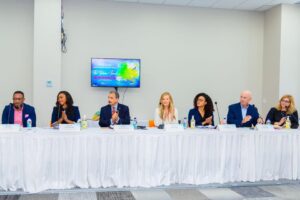 Through stakeholder feedback, a Vision 2032 statement was formed. The Vision 2032 statement reads:
"𝑾𝒆 𝒆𝒏𝒗𝒊𝒔𝒊𝒐𝒏 𝑨𝒏𝒕𝒊𝒈𝒖𝒂 𝒂𝒏𝒅 𝑩𝒂𝒓𝒃𝒖𝒅𝒂 𝒂𝒔 𝒕𝒉𝒆 𝒑𝒓𝒆𝒇𝒆𝒓𝒓𝒆𝒅 𝒅𝒆𝒔𝒕𝒊𝒏𝒂𝒕𝒊𝒐𝒏 𝒊𝒏 𝒕𝒉𝒆 𝑪𝒂𝒓𝒊𝒃𝒃𝒆𝒂𝒏 𝒓𝒆𝒈𝒊𝒐𝒏 𝒂𝒍𝒍 𝒚𝒆𝒂𝒓 𝒓𝒐𝒖𝒏𝒅. 𝑾𝒆 𝒆𝒏𝒗𝒊𝒔𝒊𝒐𝒏 𝒅𝒆𝒍𝒊𝒗𝒆𝒓𝒊𝒏𝒈 𝒎𝒆𝒎𝒐𝒓𝒂𝒃𝒍𝒆 𝒂𝒏𝒅 𝒂𝒖𝒕𝒉𝒆𝒏𝒕𝒊𝒄 𝒆𝒙𝒑𝒆𝒓𝒊𝒆𝒏𝒄𝒆𝒔 𝒕𝒉𝒂𝒕 𝒄𝒆𝒍𝒆𝒃𝒓𝒂𝒕𝒆 𝒕𝒉𝒆 𝒖𝒏𝒊𝒒𝒖𝒆 𝒉𝒊𝒔𝒕𝒐𝒓𝒚, 𝒄𝒖𝒍𝒕𝒖𝒓𝒆, 𝒅𝒊𝒗𝒆𝒓𝒔𝒊𝒕𝒚 𝒂𝒏𝒅 𝒃𝒆𝒂𝒖𝒕𝒚 𝒐𝒇 𝒃𝒐𝒕𝒉 𝑨𝒏𝒕𝒊𝒈𝒖𝒂 𝒂𝒏𝒅 𝑩𝒂𝒓𝒃𝒖𝒅𝒂. 𝑾𝒆 𝒆𝒏𝒗𝒊𝒔𝒊𝒐𝒏 𝒂 𝒎𝒐𝒅𝒆𝒓𝒏 𝒂𝒏𝒅 𝒘𝒐𝒓𝒍𝒅-𝒄𝒍𝒂𝒔𝒔 𝒕𝒐𝒖𝒓𝒊𝒔𝒎 𝒊𝒏𝒅𝒖𝒔𝒕𝒓𝒚 𝒕𝒉𝒂𝒕 𝒇𝒖𝒓𝒕𝒉𝒆𝒓𝒔 𝒕𝒉𝒆 𝒆𝒄𝒐𝒏𝒐𝒎𝒊𝒄 𝒅𝒆𝒗𝒆𝒍𝒐𝒑𝒎𝒆𝒏𝒕 𝒐𝒇 𝑨𝒏𝒕𝒊𝒈𝒖𝒂 𝒂𝒏𝒅 𝑩𝒂𝒓𝒃𝒖𝒅𝒂 𝒂𝒏𝒅 𝒓𝒂𝒊𝒔𝒆𝒔 𝒕𝒉𝒆 𝒔𝒕𝒂𝒏𝒅𝒂𝒓𝒅 𝒐𝒇 𝒍𝒊𝒗𝒊𝒏𝒈 𝒐𝒇 𝒊𝒕𝒔 𝒄𝒊𝒕𝒊𝒛𝒆𝒏𝒔 𝒂𝒏𝒅 𝒓𝒆𝒔𝒊𝒅𝒆𝒏𝒕𝒔 𝒊𝒏 𝒂 𝒎𝒂𝒏𝒏𝒆𝒓 𝒕𝒉𝒂𝒕 𝒑𝒓𝒆𝒔𝒆𝒓𝒗𝒆𝒔 𝒕𝒉𝒆 𝒏𝒂𝒕𝒖𝒓𝒂𝒍 𝒓𝒆𝒔𝒐𝒖𝒓𝒄𝒆𝒔 𝒖𝒑𝒐𝒏 𝒘𝒉𝒊𝒄𝒉 𝒕𝒉𝒆 𝒇𝒖𝒕𝒖𝒓𝒆 𝒐𝒇 𝒐𝒖𝒓 𝒕𝒐𝒖𝒓𝒊𝒔𝒎 𝒊𝒏𝒅𝒖𝒔𝒕𝒓𝒚 𝒅𝒆𝒑𝒆𝒏𝒅𝒔."
The Minister called on stakeholders to get involved in making this vision a reality.
The Hon. Denise Charles, Minister of Tourism, International Transport and Maritime Initiatives, Dominica, was the feature speaker at the event. She called for regional integration and the need for the Caribbean islands to collaborate as we worked towards recovering from the pandemic.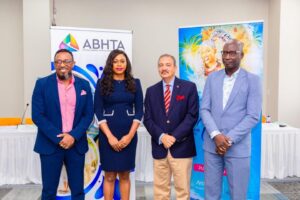 Colin C. James, CEO of the Antigua and Barbuda Tourism Authority offered a comprehensive destination overview on activities within the source markets and tourism developments.
The discussion also saw speakers from varying companies making presentations that provided insight into future marketing trends, trends in travel, the future of air travel, and the post pandemic traveler.
Speakers included: Paula Whitehead, Strategic Director, Resort Marketing International, Michael Pewther, Head of International, Frontier Airlines, Helena Beard, Contributing Writer TravelMole and Mariel Polanco, Marketing Manager, Expedia.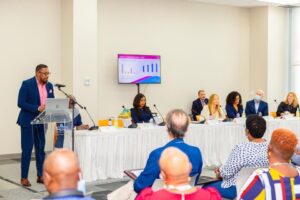 Now in its 7th year, Showcase Antigua Barbuda is the premier travel trade business to business event, for Antigua and Barbuda. The annual B2B event hosted by the Antigua & Barbuda Hotels and Tourism Association, in collaboration with the Antigua and Barbuda Tourism Authority, attracts major tour operators from the Caribbean, Latin America, North America, the United Kingdom, Europe, and the United Arab Emirates.
The event which has been absent from the destination's calendar for the past two years due to the pandemic, focuses on networking with one-on-one meetings with Antigua and Barbuda's leading tourism and hospitality related businesses, and provides attendees the opportunity to directly experience the destination's offerings of, Culture & Heritage, Wellness, Romance, as well as Yachting & Sailing.
Ministry of Tourism, and Investment.