Tevaughn "Peter Redz" Harriette condemns the Development Control Authority (DCA) for the "severe action" it took in demolishing the business place of several Parham youth last weekend.
Harriette says he is also "very disappointed with the Prime Minister's remarks about the situation – and those who are making the issue political without genuinely having the youth's interest at heart.


"If, indeed, the youngsters broke the law, I'm calling on the DCA to act swiftly with others that we see [doing so] daily across Antigua. Make it a level playing field!" he says.
Harriette is the United Progressive Party's Candidate for St. Peter and a resident of the village. He reports that, so far, he has had discussions on the matter with a DCA representative and remains in contact with the youth and their families, keeping them up to date with his efforts.
In terms of "offering comfort and guidance as to the next step," Harriette says, "I've organized a meeting for today, January 18th, with a DCA representative."
Coming out of that meeting, he says, he will actively "seek funding to help the boys rebuild their property at whatever location they decide.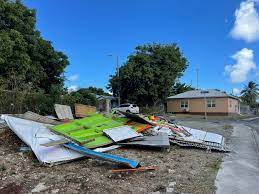 "I will also offer any support I can when the process of rebuilding takes place – whether it be man power or an attorney-at-law to provide assistance and understanding of the legislation, to make it clear what they can and cannot do – and/or offer substantial financial assistance."
Going further, Harriette declares: "The boys, their families and I do not want it to be political!
"This is personal for me. I grew up with the boys, so I've known them for years. I feel their pain and I want to advocate for them," he says.