Despite Covid-19's effects on very many things, including shipping, Santa's shipment of toys from the North Pole – though late under normal circumstances – arrived right on time to the differently-abled students and residents of the Friends Foundation and the Care Project.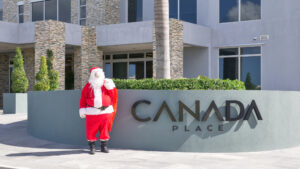 Over the weekend, with the assistance of the Calvin Ayre Foundation (CAF), an undaunted Santa visited the old Holberton Hospital compound. His mission? To spread both Christmas and New Year cheer to a demographic considered to be the most vulnerable in our society.

Donning his Santa costume, President of the Generation Next Football Academy and the Calvin Ayre Foundation Advanced Soccer Academy, Ricky Santos, arrived to the sound of cheers from the staff and children of the Friends Foundation/Developmental Center with his sack of goodies.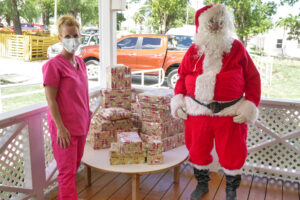 This is a not-for-profit organization which operates a fully functional school facility for differently abledchildren of Antigua identified through its outreach program or living at The Care Project. It is a unique facility, providing a fantastic place to learn, be stimulated and make new friends.
Friends Foundation Supervisor, Kate James, who spoke on behalf of the organization, expressed heartfelt thanks to CAF for once again supporting the charity and for bringing Christmas cheer into the children's lives.
Santa's next stop was the Care Project, which is only a few minutes away from the Friends Foundation.  The government-managed facility provides a home and basic care for children with severe mental and physical disabilities.
Sandy Daniel, Operations Manager at The Care, was not only elated to receive the gifts on behalf of the residents but also for the monthly supply of food from CAF. "On behalf of the management and staff of the Care Project, I'd like to say a special thank you to the Calvin Ayre Foundation for donating these gifts to the residents of the Care Project.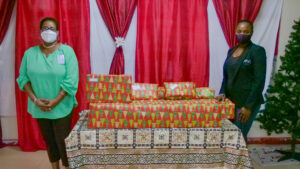 We're also grateful," she said, "for the continued assistance offered by the Calvin Ayre Foundation for the Supplemental Nutrition at the CARE (SNAC) initiative, which allows the residents of the Care Project, to enjoy healthy mealsevery month."
Jamilla Kirwan, Media Relations Specialist for Ayre Group and the Calvin Ayre Foundation spoke on behalf of Ambassador Calvin Ayre and his Foundation. "As always, it gives us great pleasure at CAF to contribute positively to the quality of life of the most vulnerable in our society," she said."The joy on the children's faces is priceless! We will continue to play our role and make a difference in our society in the areas of Emergency Response, Social Development, Education and Sports."