Following almost 2 years of negotiations, Frontier Airlines conducted it'd first flight to Antigua on Saturday afternoon and was greeted with an exciting inaugural ceremony.
The flight departed from Orlando, Florida with Antiguan Aaron Simon as the co-pilot and an Antiguan and Barbudan flight attendant.

Simon- who hails from New-Field Village- was met with an emotional welcome by well-wishers including Government officials, his wife, and his mother who wore a sash labeled "Proud Mom."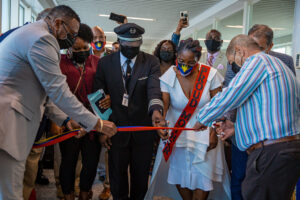 The CEO of Frontier Airlines Barry Biffle presented a Frontier model plane to Minister of Tourism Charles Fernandez as a gesture to mark the monumental agreement between the countries.
Mr. Biffle expressed his excitement stating that "Frontier's expansion in the Caribbean, and now the West Indies region, highlights our epic international growth story throughout the past year, while maintaining the affordable fares that shape our 'Low Fares Done Right' strategy,"
Minister Fernandez also expressed his gratitude saying that the launch Airlines service is "welcomed news for Antigua and Barbuda as we head into the winter season"
"With competitive fares on offer and greater connections to other US cities out of Orlando, we expect to see a significant increase in stay-over visitors to Antigua and Barbuda from the US market," he said.
The flight saw 92 passengers arrive on Saturday and is expected to conduct direct flights every Saturday.