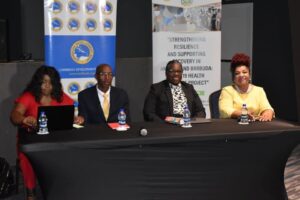 The Government of Antigua and Barbuda through the Ministry of Health, Wellness, Social Transformation and the Environment in collaboration with the Caribbean Development Bank recently held a workshop to launch the Strengthening Resilience and Supporting Recovery in Antigua and Barbuda: COVID-19 Health Response Project. Minister of State within the Ministry, the Honourable Samantha Marshall was the featured speaker during the opening ceremony.

Minister Marshall noted that this project is a significant milestone in our collective efforts to build health, social, and economic resilience within Antigua and Barbuda, and by extension, across the Organization of Eastern Caribbean States.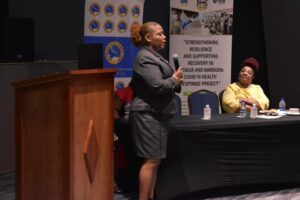 During her presentation, she revealed that in or about March 2021, the Government of Antigua and Barbuda (GOAB) sought assistance from the Inter-American Development Bank , for financing aimed at enhancing our COVID-19 crisis response, promoting resilience building, and facilitating recovery in the Health Sector.
This initiative, she said, represents one of our strategic responses to the ongoing COVID-19 pandemic, which has posed unprecedented challenges to our small, vulnerable twin-island nation.The overarching objective of the project, funded through the loan facility, is aimed at enhancing our capacity to mitigate the direct and indirect impacts of the COVID-19 pandemic on the health of our population.
Minister Marshall stated that this project is a testament to the Government's commitment to safeguarding the well-being of the citizens in Antigua and Barbuda and ensuring a resilient healthcare system.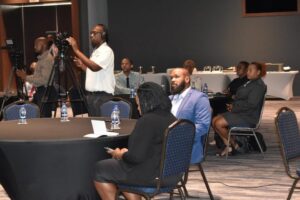 The Minister thanked the Inter-American Development Bank and the Caribbean Development Bank for support , noting that we received a loan totaling US$4.68 million to invest in our healthcare! Just over, US$1.5 million was allocated as retroactive pay for the investment made by Antigua and Barbuda to strengthening our COVID 19 health care management strategy.
Whilst, US$3 million+ was directed towards the equipping of a new Renal Centre and to purchase critical diagnostic equipment, to include a new incinerator and oxygen plant for the Sir Lester Bird Medical Centre, such investments, will certainly help to address the current challenges faced by ensuring that the healthcare sector has the necessary tools and resources to effectively combat the
pandemic and at the same time to improve on the health care services we currently provide.
The loan amount we received of which a portion is retroactive payments towards the investment the Government made in providing necessary medical resources and equipment during the Pandemic.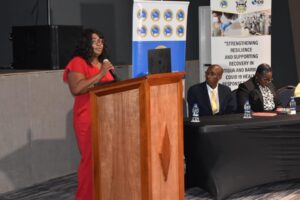 The importance of building resilience within our public health sector cannot be overstated. As a small island developing state with limited resources, we face unique challenges in managing the continued effects of the COVID-19 pandemic and effectively handling future public health crises.
This project serves as a learning opportunity for us, enabling us to draw valuable lessons from the experiences of the past recent years.