fted, through the financial assistance of the Calvin Ayre Foundation. In separate flights over the weekend, 7-year-old burn victim, T'rique Jeffrey andCancer patient, Deborah Carr's paths almost crossed. While Carr was returning home to her family after receiving treatment in Suriname, T'rique was being hurried off to a specialized burn care center in the Dominican Republic.
Media Relations Specialist for CAF, Jamilla Kirwan, said she received a call from a tearful mother and father of the 7-year-old boy late last week, requesting assistance for the US$20,200 air ambulance flight. At the time, T'rique was in a medically induced coma in the ICU at Sir Lester Bird Medical Center, after sustaining burns to 52% of his body.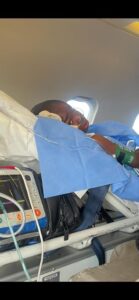 A medical report provided by the family indicated that T'rique had extensive burns to his left arm, chest/abdomen, back, both limbs, and the chin/face from the unfortunate accident at home on the evening of May 16th.
Given the extent of his burns, the decision was made by doctors at SLBMC, to seek transfer to an overseas specialized Burn Care Center that was better equipped to adequately manage the child's case.
Kirwan reports that since Royston and T'rique's mom, Latoya Jarvis accompanied their son to the Dominican Republic, Royston has updated her via WhatsApp, that the 7-year-old has had two surgeries, which were deemed successful.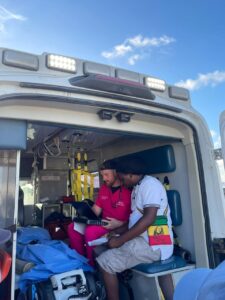 "I will always be thankful and grateful to you guys," Kirwan said the emotional father responded in a voice note.
Meanwhile, a spokesperson for Deborah Carr's family said they are happy to have their loved one back home and in their care.
In the request letter to the Foundation, the spokesperson indicated that Carr had initially traveled to Suriname for treatment but, due to her extremely weakened state, would have needed to return homevia air ambulance, accompanied by medical support.
The air ambulance cost the Foundation US$62,000, a figure the family spokesperson said they would never have been able to afford.
Kirwan sends her best wishes to both families on behalf of the Calvin Ayre Foundation and Ambassador Calvin Ayre, and pledged CAF's continued support to the people of Antigua and Barbuda.