A wave of sadness moved through the Parham this morning after fire gutted the home of Claudette Martin. The building and its contents were completely destroyed.
Four term Member of Parliament for the constituency of St Peter Asot Michael, who has known the family for over 20 years visited them to sympathize and pledge his support:

"I am extremely saddened by what happened… I was just at this house a few nights ago… Claudette is a very dear friend of mine, so is her mom Dorothy who lives right across the road… I can't believe her entire home is demolished. It was quite a nice, beautiful little home. It's always very sad when someone loses their home their personal belongings, their clothing, their appliances… its very emotional… very emotional for me also…

The St Peter MP says he has an obligation to help rebuild the family home but he would like the residents of Parham to assist:
"I am going to pledge personal financial resources to rebuild this house as soon as possible… I will provide the materials for the new house, but I would also like the community to be involved… We have a lot of tradesmen – a lot of carpenters, a lot of masons. I would like it to be a Parham community effort… People can come out on a Saturday and Sunday and whenever they have time after work, to assist Claudette…"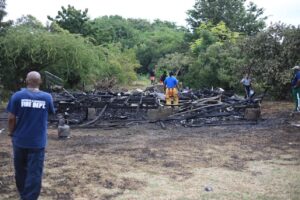 Mr. Michael believes even in this time of sadness and disappointment for the Martin family, there is still a lot to thank Almighty God for:
"She could have been sleeping in the dead of night with her children… when this happened. Luckily, she went to sleep across the road by her mom. She could have lost her life… thank God she is alive and nobody has been hurt… Its is only a structure that has been damaged and that's the most comforting thing for me this morning".