Art speaks where words are unable to explain. It is an international language that has shaped the world as we know it, and will continue to do so.
Antiguan artist GuavaDeArtist, and CEO of Guava De Art, has always been deeply connected to art. According to his website, he is a self-taught artist who is "versatile in different avenues of art (illustration, painting, sculpting, 3D modeling, art toy creator, and digital drawing/animation)."

Speaking to the Antiguan Trumpet, he told us about his passions, aspirations, and challenges as one of the best self-taught artists in Antigua and Barbuda.

A Little Background
Guava did not hesitate to explain the meaning of his name: As a child, his mother would always give him Guavas to take to school. Eventually, a peer nicknamed him Guava Man, and the name stuck with him.
As a child, he loved science, but he says that his passions were taken for granted at school.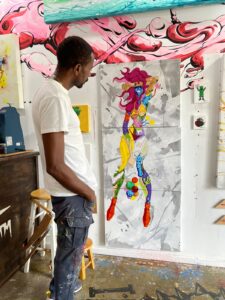 Later on, he travelled and studied broadcasting in Canada and received a post diploma in Television and Video Production. Even then, art was more than just a hobby, it was an outlet, a means of expressing himself without words.
He explained that he began his professional painting career in 2007 after participating in a group art show at Woods Mall. After a few years of being in the work world, he decided to take on the challenge of entrepreneurship, and so Guava De Art, Art Gallery was born.
"I started off at my mom's house," he said, noting the humility of his journey. "Then later on, I opened my Art Gallery in Redcliff Quay."
That gallery is now home to many exceptional pieces created by Guava and his wife, pieces that have captured the eyes and hearts of art enthusiasts, tourists and locals.  His remarkable art work has made its way to the USA, UK, Japan, and Canada.
Passion, Inspiration and aspiration
"Art is all around us," Guava says. "Everything was first concept." He considers himself an "imagineer"  and an inventor.
He shared his sentiments about the need for art in the educational system, saying that not every child will become a lawyer, teacher, doctor or police officer. Some people are born creatives, and we need to nurture and help develop those talents and passions, so that they can become adults who do what they love, and love what they do. Furthermore, children need different ways of learning things. Some learn by looking at graphics or pictures, while others are able to read or learn by listening.
He is inspired by the simple ability to create and feels that his talent is a gift from God which allows him to bring joy to the masses. He paints what he feels to paint, and dabbles in various painting styles.
Guava says that success for him is to have his brand be recognized globally, to partner with major companies who would use his artwork for products. He aspires to continue focusing on doing what he loves, and making a living doing it.
As one can imagine, life as a professional creative in the Caribbean is not easy. Guava says that he manages his business independently, with no governmental assistance. His main challenge is with defending the costs for products and services. However, he presses on and encourages others to do the same.
Words for Youth, Aspiring Artists and Creatives
We asked Guava to share some words of encouragement for up-and-coming creatives who may read this interview: "Keep dreaming. Don't listen to the naysayers, ignore them completely. If you know you love it, do it 100%!!! "  Guava De Art and his amazing work can be found on various platforms including:
Facebook: GuavaDeArtistInstagram: @guavadeart/ @dazedducks Website: https://www.guavadeart.com/