Two weeks of anniversary celebrations came to a close on Tuesday as the ABWU hosted its Members Appreciation Day.
Many of the Union's earliest members were delighted to visit the halls of the ABWU to reflect on the early struggles and achievements.


Several long-standing members were presented with shopping vouchers as an expression of gratitude for their contributions to the Union's growth and development.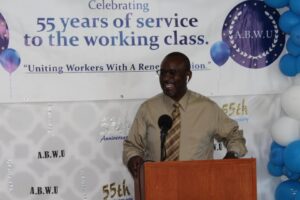 ABWU General Secretary, David Massiah, described the occasion as the "hallmark" of the 55th Anniversary celebrations. "This is a moment for us to at least remember those of you who have been in the struggle with us," Massiah said.
He credited the establishment of the Social Security Scheme to the tenacity of the earliest Union members. "…It is with your help – because you were there in the struggle; you were there fighting!" Massiah remarked.
Deputy General Secretary, Chester Hughes, revealed to the gathering that an Elderly Care and Retreat Centre was in the pipeline for development.
He said it was his hope to see the opening of this facility before the Union attains its 60th anniversary.