Earlier this month, 12 team members from Sandals Grande Antigua Resort and Spa began a new chapter in their professional careers in the Dutch speaking island of Curacao at Sandals Royal Curacao, the newest resort addition in the Sandals chain.
They are Jeanne Knowles, Ken Merrick, Michelle Martin, Andrea Lamar, Joyann Looby, Selina Naddour, Stacey Henry, Julienne Rose, I-love Lee, Dillon Watson, Anthony Linor and Dexter Browne.
The team members form part of Antigua's taskforce that travelled to the Dutch speaking island just over a week ago to assist with the grand opening of the resort on June 1.

General Manager Matthew Cornall said "We are acutely excited and honoured to be a part of this very exciting initiative as we grow and develop at such a fast pace as a company. Being able to afford this opportunity to our team members – giving them the chance to experience other destinations, get exposure in their career field and grow and develop in their careers is exciting."

"This is what our company is all about, from the time team members are hired and have complete the onboarding process, developmental and training opportunities are continually explored through our online courses platform and our Team Member Exchange programs which include the dedicated task force assignment," Training and Development Manager, Carlene Spencer shared.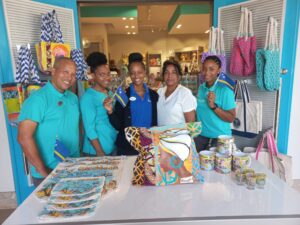 A central part of the resort's future-facing strategy is the company's Team Member Exchange Programme which sees the continued movement of Caribbean nationals to take up assignments at a number of the company's resorts across the region.
The Exchange Programme is an initiative through the Sandals Corporate University (SCU) and allows new recruits to become immersed in the Sandals and Beaches resorts' culture, while existing employees are seconded to other resorts, providing an opportunity to travel and become exposed to new working environments and cultures, widen their skills and insights, enhance their career development and positively impact their job performance on return to their home resort.
Over the next few months the 12 team members will be located on the beautiful island of Curacao and work in the departments of kitchen, weddings, front office and food and beverage.
Human Resource Manager, Donna-Jean Samuels said, "With this new resort opened, the opportunities remain endless for some team members to join their fellow countrymen on the ground at Sandals Royal Curacao. This is a good thing for our team members' development and for Antiguan talent to be showcased at a very high level for Curacao and the rest of the world to see.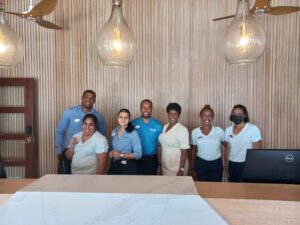 Days into the opening of the resort, taskforce team members are excited and still taking it all in. Dillon Watson from the kitchen department said, "I'm feeling anxious and excited, definitely overwhelmed but I'm expecting to learn more about cooking, the local cuisine in Curacao and meet new friends and more of the team on the ground who have been really hospitable."
"I am super excited to learn about the culture, a little bit of Dutch and also build on my experience as a wedding captain. I am here in Curacao to do my best, make Antigua proud and represent Sandals Grande Antigua," Andrea Lamar from the weddings department added.
The 12 team members were met by the team on the ground to much fanfare and celebration.