Dynamic duo Karian Christian and Sonalli Andrews are celebrating success with their new Jumbo coloring and activity book-Children of the Soil; An idea born from realizing that Antigua and Barbuda are not well represented in early childhood education.
What's the book about?

The 100-page coloring and activity book highlights Antiguan culture, history and wildlife, and was created for children ages 2-8, allowing them to learn about their heritage from an early age. Christian, a mother of a young child, and an educator, had realized that most activity books for that age group were cliché and americanized. So, she put pen to paper and began drafting.

It wasn't until April of last year that she contacted a well-known professional Antiguan graphic designer and illustrator, and the pair began working on the designs. The book was released on Amazon in December of 2021 and since then, the response has been overwhelming.
Now let me tell you: Just one glance at the book, and I was in awe! I had two questions in mind: Why this hadn't been done before, and who was the local artist responsible for such a masterpiece?
So, I caught up with the man behind the remarkable illustrations, in an exclusive interview to talk about the process that led to the work of outstanding artistry, and of course his aspirations.
Meet the Illustrator
Sonalli Andrews has been dominating the field in Antigua for quite some time, having professionally studied graphic design, graphic illustration and animation and other skills within the area. He even offers classes for those interested, and aspires to continue setting the standard for design in Antigua and the Caribbean.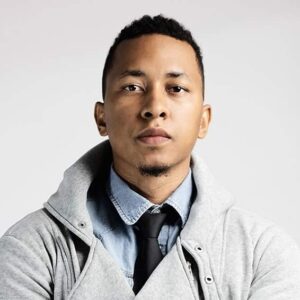 "Not many persons are aware of how what they see is actually done. (There is) a great deal of excitement to want to want to pursue design, but when the reality of the Caribbean not having design career resources kicks in, the excitement dies down. People either give up or leave and go where their creative pursuits can be nurtured and valued. Those people leaving creates a brain drain which ultimately causes the country to lose money," he explained.
He stated that his intent for shining light on what it takes to create such works like Children of the Soil is to inspire young local designers to be persistent with their dreams and goals.
"I want to inspire young artists to follow their dreams and to know that they are just as vitally important as Doctors, Lawyers and Politicians," he said.
Andrews also shared some of the tools used to create the book:
Equipment: iMAC paired with WAMCOM CINTIQ 22HD
Software: Clip Studio Pro, Adobe Illustrator and Adobe Photoshop
When asked if we should expect more work from the pair, Andrews stated that a volume 2 is in the works and that fans can also expect similar content soon.
For information on classes with Sonali Andrews:
IG: kingsonalli
Facebook: redninko graphics
Email: [email protected]
Find Karian Christian on IG: @boldbooks268
How to get your copy
If you are yet to acquire a copy of Children of the Soil Jumbo Coloring and Activity Book, you can purchase it on Amazon.
The book will officially be launched on Sunday 20 February at 2PM at the Pink Mongoose Studio on friars Hill Road. All are invited to purchase copies, and meet and greet the creator and Illustrator.