The latest Consumer Price Index release from the Statistics Division indicates that the rate of inflation at the end April 2021 is 1.2%, compared to 2.1% at the end of March 2021.  

The largest component of the basket, the Food index increased by 0.9%.  The Fruit index increased 8.1%, Breads and Cereals and Oils and Fats increased by 5.3% and 3% respectively.  Milk, Cheese and

Eggs and Food Products Not Elsewhere Specified also moved upwards by 1.3% and 1.5%.Significant increases were exhibited in the Communications Index (7.2%), Furnishings, Household Equipment and Routine Household Maintenance (6.1%), and Transport (5.9%).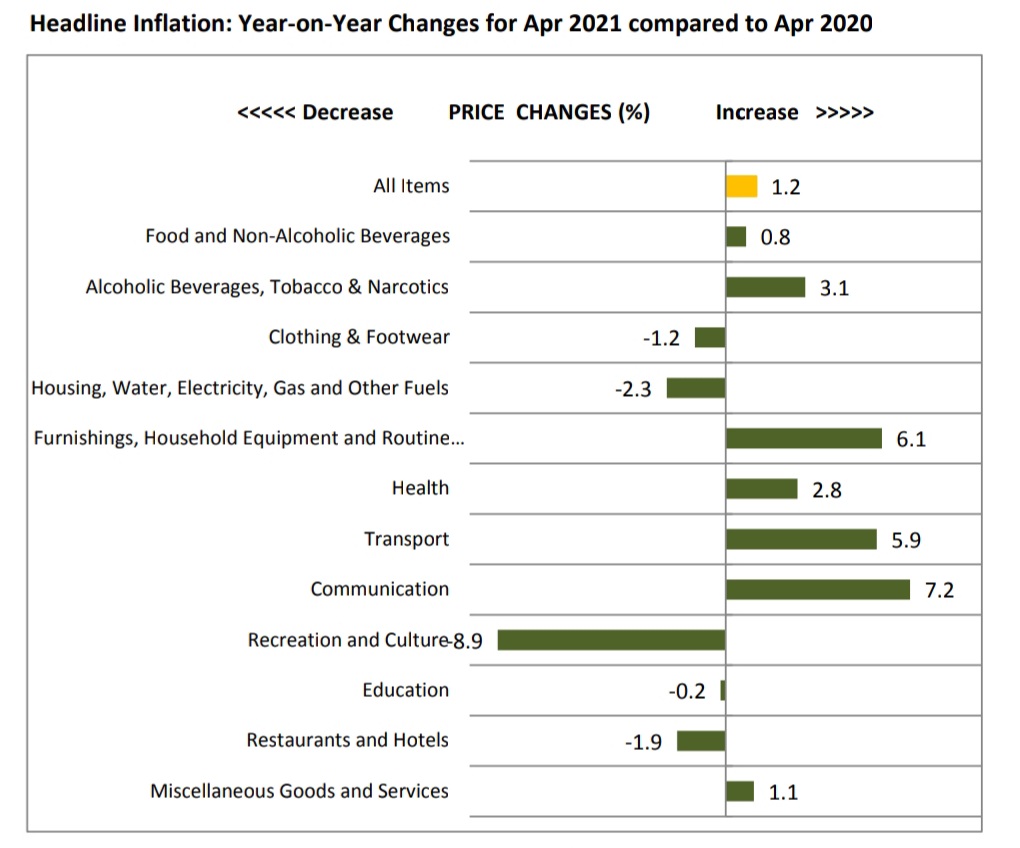 Recreation and Culture Index continued its downward trend falling 8.9%, the Energy Index fell 8.8% and Restaurant and Hotels decreased by 1.9%.   
The month-to-month comparison from March to April 2021 reveal very no effective change in the CPI Index. Over the 30-day period pork prices exhibited significant increases resulting in a 41.4% increase in the Pork Index which would have contributed to a 5.2% increase in the Meats and Meat Products Index.  
Decreases in the indexes for Transport (-1.8%), Communication (-1.2%) and Furnishings, Household Equipment and Routine Household Maintenance (-0.9%) continue to reflect the dampening in consumption across the economy because of the protracted slowdown in economic activity related to the fallout from the Covid-19 pandemic.
 Despite the dampened demand the Clothing and Footwear Index increased 2.4% due in large measure to the slight increased in prices for major source markets.