Tevaughn "Peter Redz" Harriette is denying there is any truth to the assertion that a Labour Party politician is assisting his campaign to become a United Progressive Party (UPP) candidate,.
According to Harriette, Asot Michael, Member of Parliament for the St. Peter Constituency, misrepresented him on Saturday, August 22, during the Browne and Browne Show on Pointe FM.

Reportedly, Michael told his audience he had paid for persons to register with the UPP St. Peter Branch so they could vote for Harriette in an upcoming primary.

"I wish to make it absolutely clear that I, Tevaughn Harriette, have never requested, nor received, any money from MP Asot Michael to register any individual with the UPP for the pending primary in the constituency," Harriette writes.
"I am therefore requesting that MP Michael cease and desist from such untruthful … statements."
Harriette is a national football star and has captained the Parham Football Club, which MP Michael has sponsored for many years.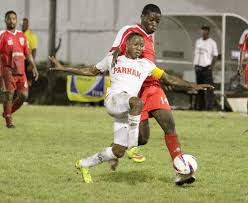 Parham and Pares have been traditional strongholds of the Labour Party representative; however, the young sportsman now commands a significant following in the community, especially among the youth.
In a primary expected next week, he will contend with two other aspiring candidates – Colin Isaac and Chaneil Jackson Imhoff – to represent St. Peter on the UPP ticket