"Support Local" is a series of articles on local Antiguan and Barbudan entrepreneurs' and their startup stories, setbacks, and breakthroughs as they attempt to advance into a better future.
Blendz is a smoothie, slushie, and parfait company serving unique drinks. Blendz was officially founded by Oneal Elvin and Nadia Peters in 2018 after Peters started making Elvin daily protein shakes as a supplement to be used before, during, and after his gym sessions.

"This daily activity became really exciting as we began to explore other varieties," Peters said, adding that the idea to create a business arose from requests from friends and family to sell at numerous events like parties and fundraisers.

"The first event we were invited to sell at was a fundraiser for a friend. We only had one Nutri bullet blender at the time and therefore, we had to borrow a friend's blender, despite the limited resources at the time we recognized potential from the start," Peters explained.
When two more blenders were on sale at Courts Antigua, Peter and Elvin were able to acquire them for just $20. Taking advantage of the opportunity, they set up shop at various political rallies throughout the election season to sell.
"The next year's sailing week was likewise a huge market for us.  We ultimately expanded to accommodate the increasing number of visitors here in Antigua."
Blendz benefited from these opportunities to the point that they were frequently questioned, "Where are you guys located?" "At the time, we only had a spare room, to begin with, now we have two branches and we are expanding in success," Elvin explained, his tone brimming with joy.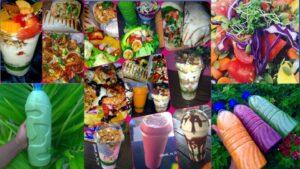 You can't be afraid to JUMP; you have to jump to get anywhere in life. Not every time you jump, your parachute will open right away, but one thing is certain: if you never jump, your parachute will never open," Elvin told the Antiguan Trumpet, quoting actor Steve Harvey.
Their menu has since evolved to include Overnight Oats, Smoothie Bowls, Detox Smoothies & Juice Cleanses, Soups & Salads and more. Their main location is in Bellview Heights in St. John's.
Facebook- (4) Blendz | Facebook
Instagram- @ blendz_on_the_go