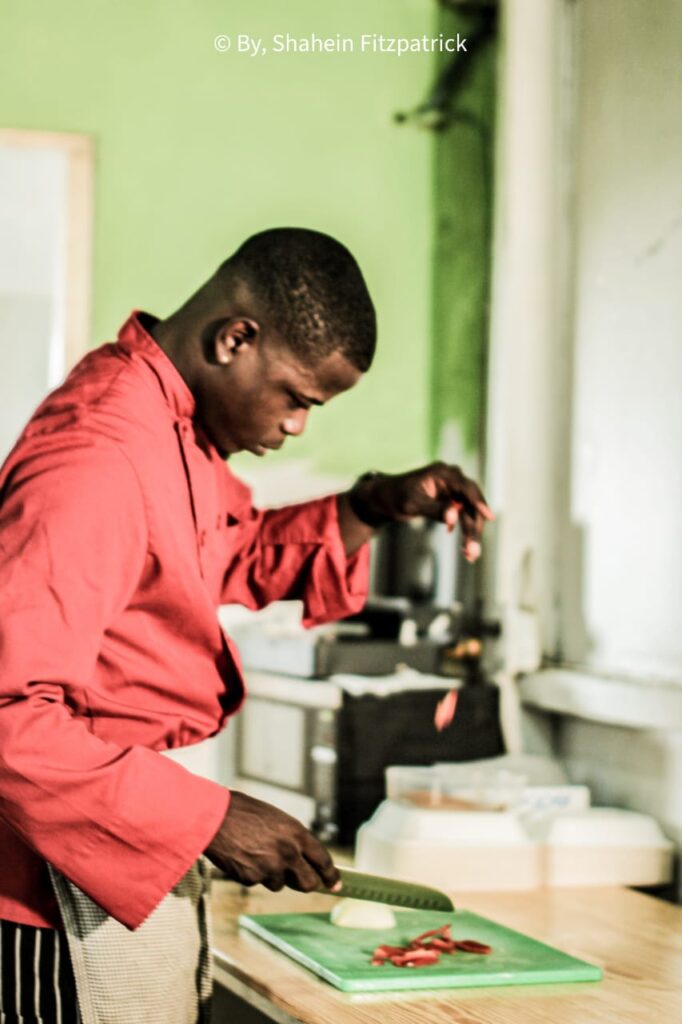 Kahendi Jackson, 22, also known as Chef Mint is a Young Antiguan Chef who manages his own business and offers a wide range of services such as catering, in house dining and bartending.
Antiguan Trumpet was able in joining Chef Mint at his restaurant located on Vally Road, Creekside Antigua as he shared his story on how he became a hospitality professional. Our reporters were also allowed to witness, the young Chef in action as he was preparing lunches for clients.

While hearing the sizzles of his burgers frying in the pan and seeing his staff working in unison to satisfy customers with personalized meals specific to their diets and taste buds, Jackson expressed how his journey to cooking began.

 "I knew how to cook from a young age, I am the oldest of my eight siblings and I was given the responsibility to take care of them when my parents weren't home. I always had a knack for cooking and my mother and grandparents would have always encouraged me to pursue cooking as a profession because they saw potential in me."   Jackson added that while attending high school he nurtured his passion by choosing subjects like 
Home Economics and Food and Nutrition. After graduating he pursued further studies in Hospitality Management at the Antigua and Barbuda Hospitality Training Institute (ABHTI). Focused and determined to master his craft Jackson expressed that he is not done with his studies just yet.
"I am studying culinary arts online at a University in Switzerland, and I am hoping to attend physical classes at the end of the year," he said.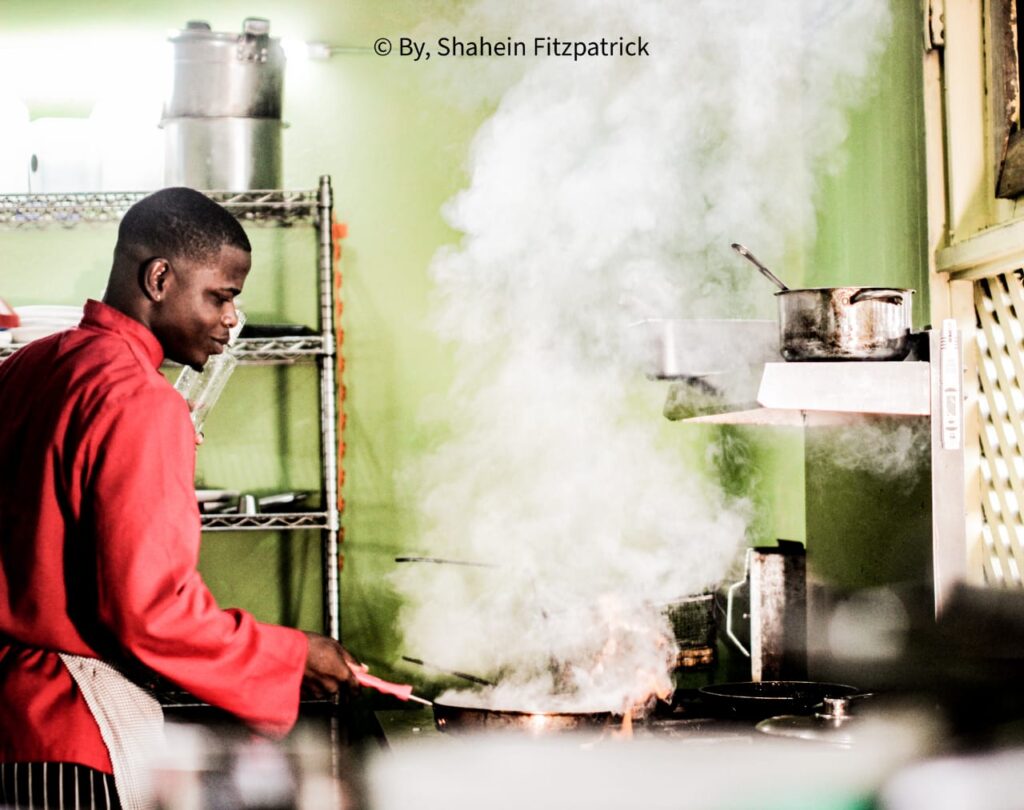 Before opening his own business, Chef Mint worked at multiple hotels on the island, balancing several jobs at the same time. His journey to success did not bloom overnight he mentioned. 
He was a mentee for years under more established Chefs in the field where he learned the "Do's" and "Don'ts" of the industry. As he was beginning to wet his feet in the waters of professionalism, his vision to rise above the status quo and the impoverishment that surrounded him grew into a burning passion. His inward drive led him to open his operations in December 2018, his birth month.
"We started with a Saturday only menu consisting of only four items; then after 3 months, we decided to expand to six items. People enjoyed our food and they requested that we open on days other than just Saturdays, this is when we started doing catering and then eventually we decided to open daily, things were going great but as you know COVID hit."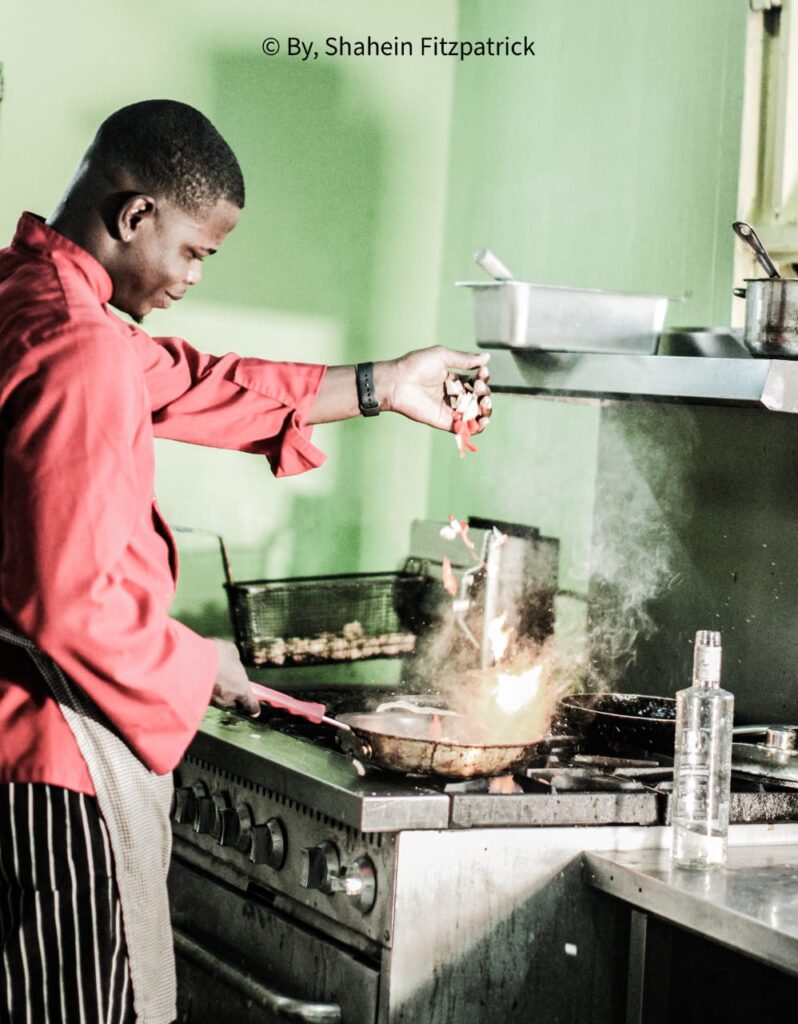 Jackson explained that he did not lay off any of his staff, but what he did was put everyone on a shift system so that each person would be able to survive throughout the tough times of the pandemic. 
As the aroma of his food rises he blissfully recalls one of his breakthroughs as a young Chef and this memory would keep him going and believing in his dream.
"In 2019 I was given the opportunity to operate a pasta station catering for over 2500 persons who attended DDF (Dadli Day Fete) an event held yearly here in Antigua. I partnered with Chef Beard, a professional and personal friend of mine who I would work along with when catering for over a hundred persons," Jackson highlighted.
Wrapping up in conversation before resuming to his busy kitchen the young Chef ended by expressing his satisfaction and comfort with the hospitality environment.
"I want to be the best at what I do, I enjoy it wholeheartedly and most importantly I am happy that I can pay my bills through doing what I love to do."