Prime Minister Gaston Browne joined the management and staff of CIBC FirstCaribbean Bank in celebrating the dedicated service of Ms. Glendina Jacobs, who is retiring on 4th November, 2020.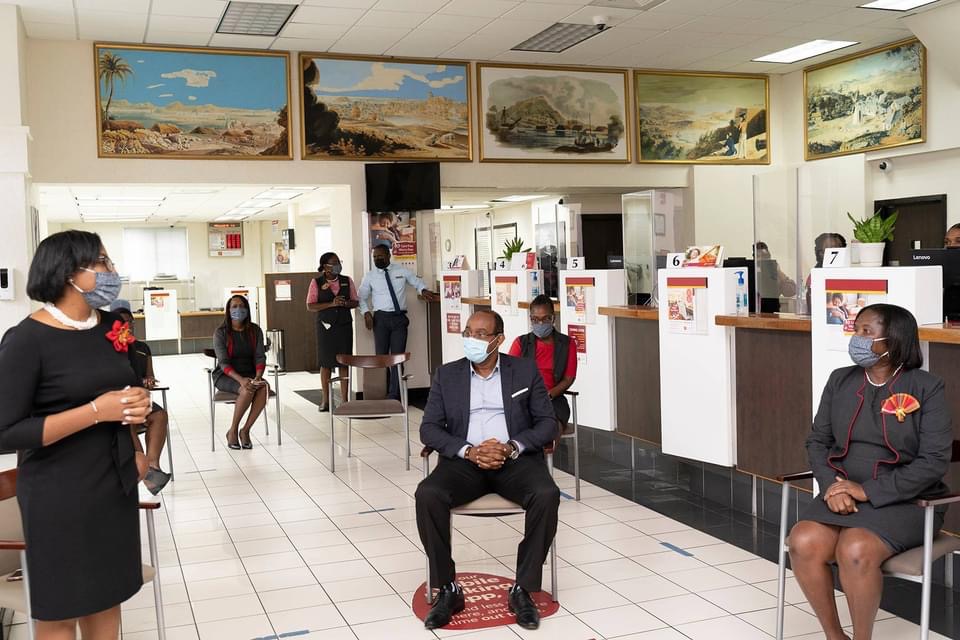 The Prime Minister lauded Ms. Jacobs for her contributions to banking, education and community development and noted that while he received the invitation to attend the function virtually, he opted instead to attend in person.

"Glendina was a school mate whom I have known for over forty years. She was always a natural leader and someone who motivated me with her high intellect and intelligence. She had the capacity to do anything she wanted, but chose banking."
Mr. Bowne noted that decision robbed the world of maybe a scientist or Antigua's first female Prime Minister.
Also speaking during the ceremony was the bank's country head, Ladesa James-Williams who observed that it was a significant occasion as it was the first time that a retirement function had been graced with the presence of a sitting Prime Minister. She noted that Ms. Jacobs is an exemplary and excellent employee who has always been approachable and humble.
"It is these characteristics which contributed to her excellent performance in her role that involved dealing with clients who were facing financial challenges."
MS. Jacobs joined the Bank in 1986 and over the years, she has worked in numerous roles, particularly in Lending and in a Supervisory/Leader capacity, ending with her current role of Client Credit Management Analyst.
In 2014 she was adjudged the bank's regional Amazing Employee of the Year from a field of 10 other nominees. During Antigua and Barbuda's 38th Anniversary of Independence last year she was honoured with the National Award of The Most Illustrious Order of Merit (MM), for distinguished contribution in the field of education and community service. For the past 20 years, she has hosted free lessons and snacks to students of her community of Buckley's Village and beyond.
Also in 2019, she was received the Inet Hero of the Year Award for her work in education and community development.
Ms. Jacobs thanked the Prime Minister for attending and for his kind words. She observed that FirstCaribbean bank is a great place to work but that persons should always make the best of life in any sphere.
"I thoroughly enjoyed my almost 34 years here. I have gained knowledge and experience and made lasting friends. I have never taken a sick day outside of maternity leave."
Retirement will no doubt bring a change of pace for Glendina, but the expectation is that she will soon be putting to good use her wealth of knowledge and experience.